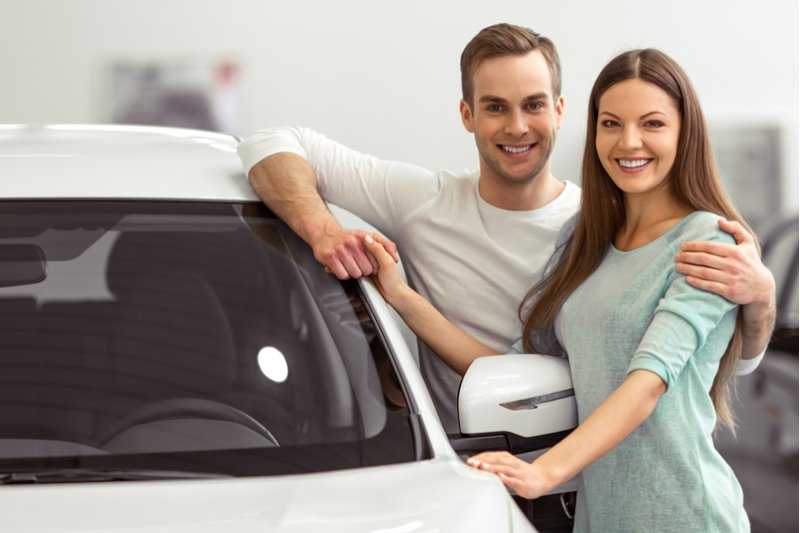 Getting your own car is a major step towards freedom and independence.
But you'll soon find out that there's more to the process than picking out trims and colors. There's actually a lot of research you should do before you land in the car dealership – if you want to make the best possible choice.
While you could just go with your gut and choose a car on the fly, that might not be the wisest decision. Remember, you'll probably have this car for the next five years. In some cases, maybe more.
So you'll want to take your time to learn the ups, downs, and in-betweens. And that's exactly what we're going to cover here.
In this post, we walk through the car buying process while answering some of the most common questions you'll likely have as a first-time car buyer.

We'll cover:
First-time car buyer tips

and resources

How to find the right car for your needs and budget

How (and when) a first-time car buyer should get preapproved for a loan

Tips for choosing the right dealership

How to negotiate your new car price

3 things you'll need when you're ready to buy
First-time car buyer tips and resources
Here you are with nothing but the down payment and a desire. And maybe an idea or two about the types of cars you like.
This part of the process can seem exciting or overwhelming, depending on your perspective.
But don't get lost in the possibilities.
Since you're the only one who can make this decision, it can feel like an isolating one. Fortunately, you're not actually alone. There are plenty of resources out there to help you make your car buying decision.
You may jump in and start using them now, or you may wait until the next step. Just know that there are many independent websites out there to help with the process.
Here are the top 3 websites we recommend using throughout the research process.
Kelley Blue Book (

kbb.com

) – We've come to think of KBB as an online resource, but this company has actually been around since the 60s (long before the internet age). In the early days, KBB actually published physical books with information on car values and depreciation. It's now owned by Cox (the media company), but the site has remained true to its roots throughout the years. KBB.com is still among the best websites for researching car values.

Edmunds (

Edmunds.com

) – Much like KBB, Edmunds began in the 60s with printed books. Edmunds also addresses car values and depreciation, but it also gives an indication of what real buyers are actually paying. You might be tempted to skip KBB because of the overlap, but it's always a good idea to get data from multiple sources.

CarComplaints (

Carcomplaints.com

) – Once you've narrowed down your search to few makes and models, which we'll do in the next step, run them through CarComplaints to learn the common complaints about each. Keep in mind that it's rare to please everyone all the time, so you'll probably find complaints about every vehicle. Your job is to review the most common complaints and decide how important they are to you.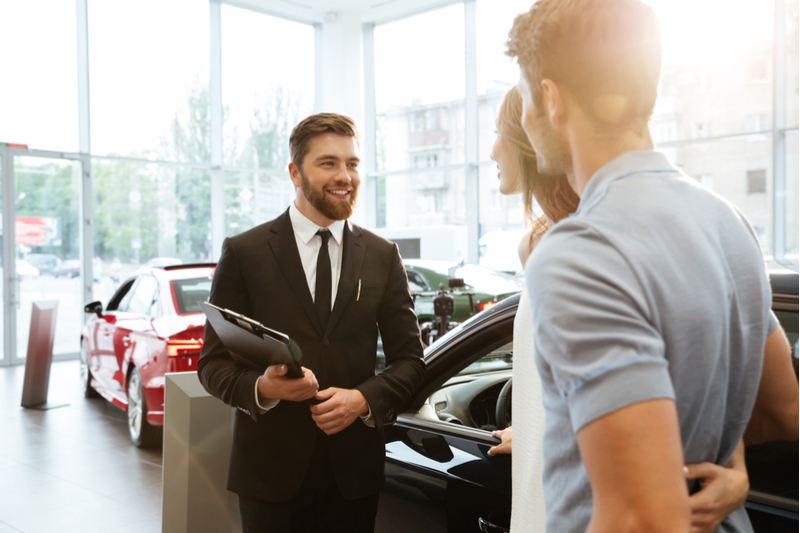 How to find the right car for your needs and budget


Now for the hard work. With hundreds of models out there, how do you find the one that'll be perfect for your needs and budget?
It's a process.
But this journey is so individual, and there's no wrong way to do it –as long as you're taking all the necessary steps. For example, there are buyers out there who absolutely have their heart set on owning a specific brand of car. Maybe they've heard that they can get the best value for their money with a Kia. So they'll keep their search limited to Kia models. And in truth, Kias are often the best cars for new car buyers because of their mix of affordability and reliability.
On the other hand, most buyers look for a type of vehicle that balances their needs and lifestyle. Are you an SUV type of person or would you feel better behind the wheel of a sports car?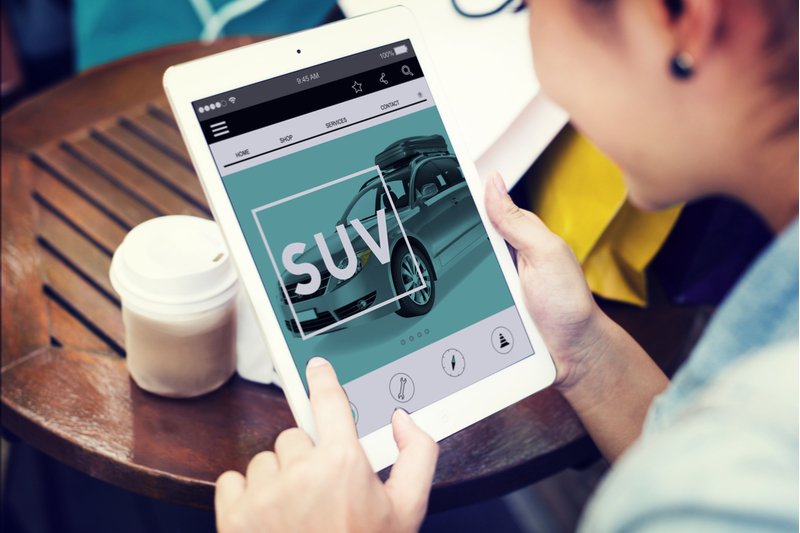 Questions to answer before you can choose the right car type


If you're already sure of the vehicle type you want, you can skip this step. But if you're on the fence, even a little, ask yourself a few questions about how you'll be using the vehicle
1. How many people will you be towing?
If you have a family or are planning to start one soon, this is an easy answer. You'll need a vehicle with significant space for every family member, including car seats and gear. This might mean a large sedan, SUV, crossover or minivan.
But if you're the first among a large group of friends to get a car, you may want to consider getting a larger vehicle. Realistically, how often will you be driving with more than two passengers in the car?
2. How many miles will you cover?
If you're planning a lot of road trips or have a long commute, you'll probably want a car that's fuel efficient. Be sure to compare the fuel efficiency of each vehicle. You may not think a few mpg matters, but this can add significantly to the overall cost of owning the car.
3. How much cargo space will you need?
Whether you need a pickup for work or just want to be the one people, call when they move, you might want your daily driver to be a truck. Depending on your needs, a large SUV might do, but just be sure to be realistic about your cargo needs now. You don't want to be wishing you had more space once you're locked into financing.
How to set a budget for a new car


When you're setting the budget for a new vehicle, remember that this is a long-term agreement. If you get laid off or have a medical emergency, you'll still have to make payments. Try to be realistic about your budget here and don't get in over your head.
If you're paying cash, this might be an easy decision. It may come down to how much money you have.
But if you're financing, consider the 10/20 rule.
The 10/20 rule suggests that you should dedicate between 10 and 20 percent of your income towards your total car spend. This should include gas and estimated maintenance. So if you make $3,000 monthly, the total amount you spend on your car each month shouldn't exceed $600. Now, the more conservative you are, the closer you'll land to the 10 percent mark.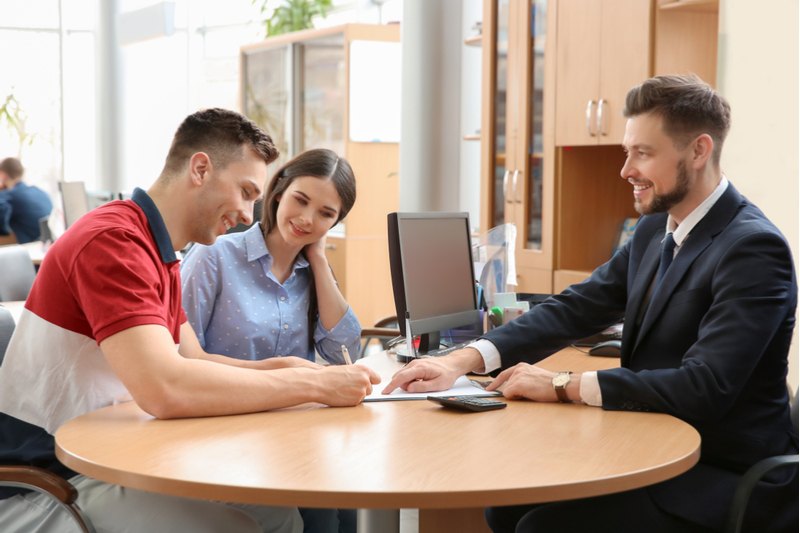 How (and when) to get preapproved for a loan as a first-time car buyer


You can wait until you get to the dealership to get preapproved for an auto loan. Or you can get a few rates beforehand.
Dealerships can often provide very competitive rates, but it's a good idea to understand what you qualify for before you get there.
In some cases, the dealer rate may be a better deal. In other cases, your pre-approval from another lender may give you leverage to negotiate for a better rate at the dealership.
Choose a few lenders with reputations for providing competitive rates for your credit, including the dealership. And once you've narrowed down your car options, reach out to start the preapproval process. Do this before you take your first test drive. This way, if you fall in love with the car, you can buy it on the spot.
Ask for the best rate you can get on dealer financing and tell them about your preapproval. If they can't match the rate, they'll tell you. And don't worry about hurting anyone's feelings. This isn't personal, and it's all part of the process.
If you're ready for this step, we'd love to talk about your options. Learn more about how to finance with us here.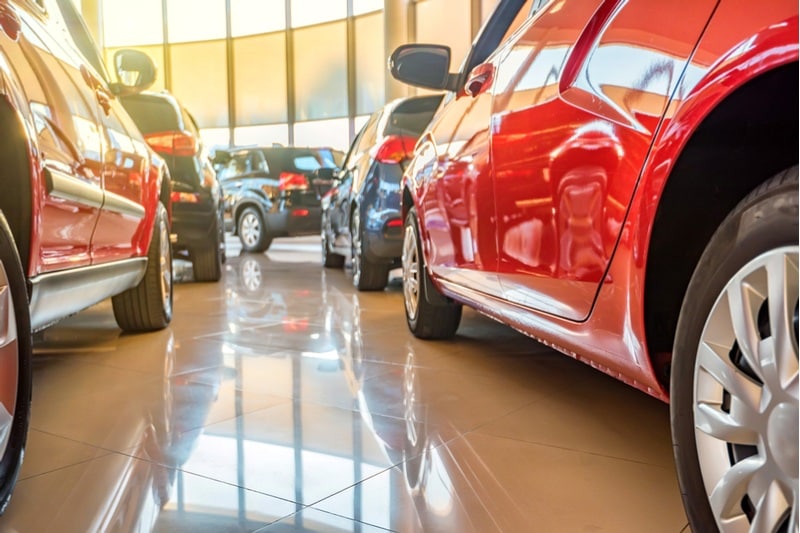 Tips for choosing the right dealership


Once you've narrowed your car selection down to about (between 3 and 5), it's time to have some fun with test driving.
Depending on how many makes you've selected, you may want to choose more than one dealership. That's okay. Just research the dealer's reputation before you schedule your test drive. If you're ready to buy after the test drive, you'll want to know you're in the right place.
Read local reviews from various websites, including independent review sites like Google and Facebook. From here, you'll get a feel for how that dealership treats its customers.
Don't worry much about the prices they're advertising at this point. You can almost always negotiate. And we'll give you some tips for that in the next section.
And when you're ready, schedule your test drive.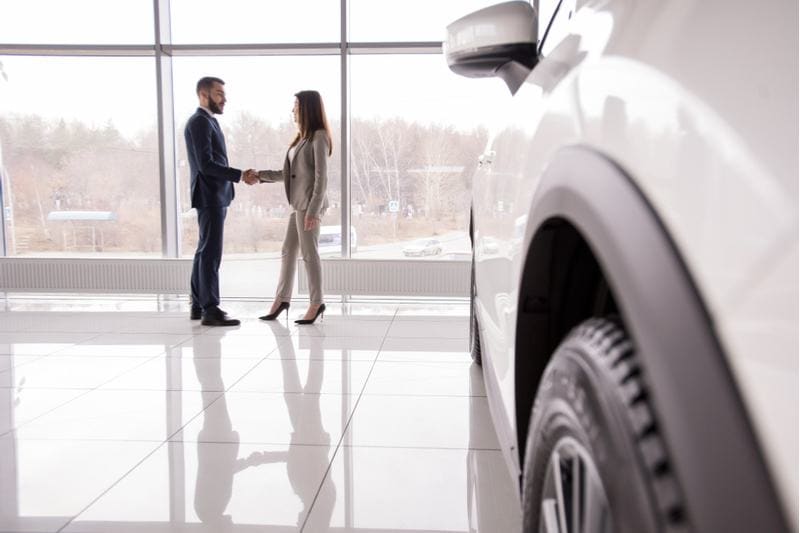 How to negotiate your new car price


Start by learning the car's true value. You'll want to do this for every new car you test drive.
New car pricing can be very confusing, so take a look at the following definitions before you start your research.
Learn about car pricing models

MSRP – This is the Manufacturer's Suggested Retail Price (MSRP). It's the full retail price of the vehicle, and it's probably not what you'll pay.

Invoice – You'll hear the term "invoice price" thrown around often, but what does this actually mean? Invoice is the price the dealer likely has paid for the vehicle. And this is sometimes confusing to people because there are some rare cases where someone will get a deal that's below invoice. This is usually because the invoice price doesn't include any incentives or rebates available. It's important to note that there aren't always rebates and incentives, so below invoice pricing often isn't possible. Unfortunately, it's very difficult to know the exact bottom line price you might be able to get, so that's why it's best to work from a fair market value like what you'll find on KBB.com.
Consumer pricing – With the advent of the internet, there's more information available than ever. Today, you can actually find out what people in your area are paying for the same make and model. You can find this information on Edmunds.com. This is probably your best negotiation tool. If other people can get a deal, there's a chance you can pay that price too.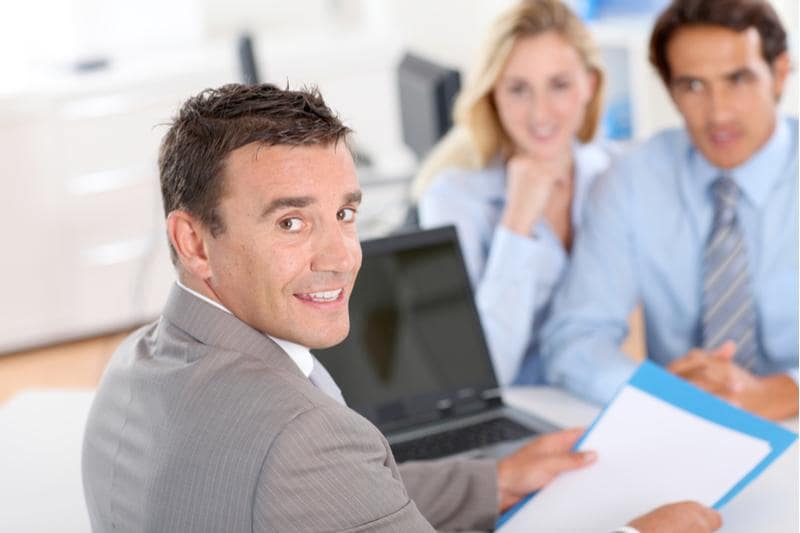 Stay firm on your budget
Remember that you set a budget for a reason. Stick with it. The salesperson may try to persuade you to spend a little extra on enhancements, but if it's not within your budget, don't budge.
Remember that you're financing anything above your down payment, so a $1,000 addon will cost more than $1,000 over the life of your vehicle – especially when you consider tax and interest. These may seem like small decisions when you break them down to monthly payments, but it's still your money. Know exactly what you're willing to spend before you enter the dealership.
And here's another thing to remember…
A good car salesperson will get you to consider things you've already declined on your own. But if you've already gone through the pros and cons and made your decision at home, there's nothing left to discuss. It doesn't matter how great those leather seats sound when someone else is hyping them up, you've already decided against them. And that's that.
The only exception to this is when you're talking about the warranty. As a first-time car buyer, you may really want to consider the peace of mind that comes with an extended warranty. It's not mandatory by any means, but it's something you should consider.
3 things you'll need when you're ready to buy


After you've done the test drive and settled on a price, there are a few things you'll need:
Personal check – You'll probably need a personal check for the down payment because most dealers don't allow this payment through a credit card. If you have any questions, call the dealership ahead of time.

Driver's license – It should come as no surprise that you'll need your driver's license to test drive and purchase a car.

Proof of insurance – Before you can drive the car off the lot, it will need to be registered and insured. The dealer can help you register the car, but you'll need to handle the insurance policy yourself. Fortunately, this is easy and is just a quick call to your insurance company. To expedite the process, you can get quotes in advance of your test drive, so all you have to do is confirm details after you've made your decision.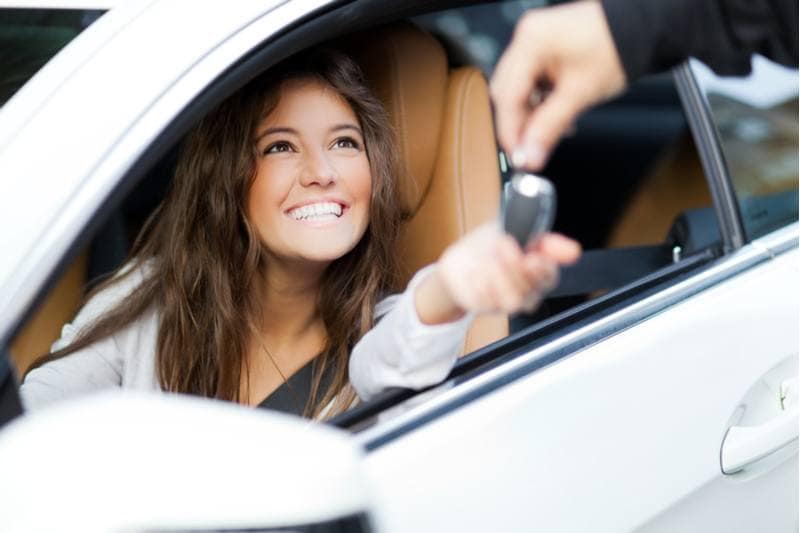 Conclusion
The new car buying process is exciting, but it can also seem overwhelming. Take your time to think about your needs and budget. And feel free to contact us with any questions you may have along the way. We're here to help throughout your car buying journey.