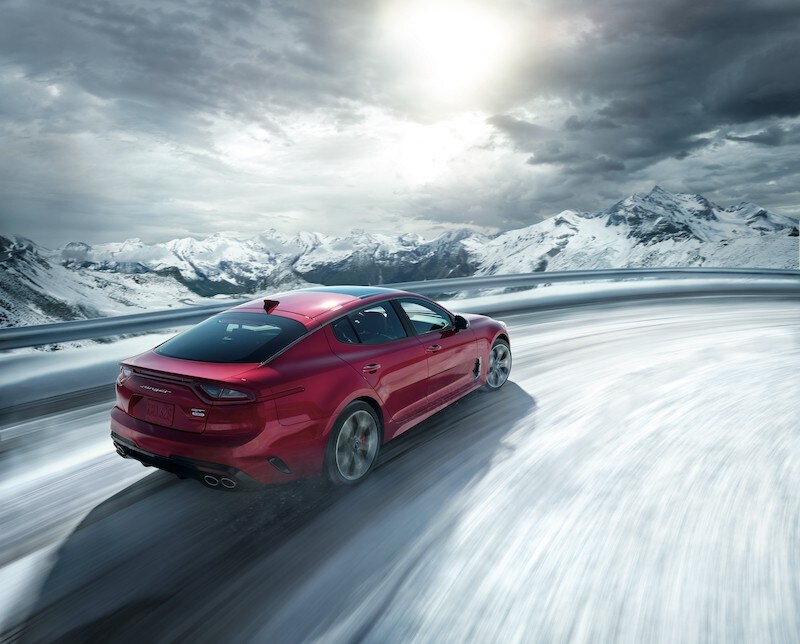 The latest 2020 Kia Stinger is a step up from many of the other models in the Kia lineup. Traditionally, Kia is known for creating mainstream sedans, but the new Kia Stinger was designed to take on entry-level sport machines like BMW and Audi—at a more affordable price. That's why this latest model actually does have luxe roots with the same platform as the Genesis G70. However, the Stinger goes a step further by tucking the hatchback away so that there's an impressive cargo space for a touch of practicality along with great looks.
When the new Kia Stinger officially debuted in 2018, the V6 GT models made an especially big splash. Now, the model has been simplified and rebranded with four-cylinder models this year. There is not just a single GT-Line option for drivers. It's the same base engine as before but with more sophisticated styling that's based on the GT V6.

How Much Does a Kia Stinger Cost?
Shoppers are happy to discover that the GT-Line is very accessible with an MSRP of $34,086. You get all the looks of the V6 but at what's considered an entry-level price for many. Within the GT-Line, you can also upgrade for more power and speed. The GT starts at $40,000, the GT1 at $46,395, and the GT2 at $51,295. The GT1 is recommended by many fans because you get all the bells and whistles (like a sunroof, 8-inch infotainment system, navigation, Harman Kardon audio, and much more) below the $50,000 mark.
For those interested in the GT1, you'll also enjoy ventilated front seats, auto high-beam headlamps, pedestrian detection for breaking, and lane-keeping assist. However, figuring out the right 2020 Kia Stinger for you is best done with a test drive.

How Much Horsepower Does a Kia Stinger Have?
The new Kia Stinger comes with two engines, a communicative steering capability, and athletic chassis. Every vehicle in the GT-Line features a turbocharged 2-liter engine with 255 horsepower, which is plenty for most drivers who like a little kick. The Premium trim is no longer offered on 2020 models, but for those who loved that feature, you can now get a great deal on a used Kia Stinger.
The latest Kia Stinger includes a sun and sound package and updated audio features. Since you have two engines available, it's what's under the hood that matters for most drivers. Both engines can have an all-wheel or rear-wheel drive. The 2-liter powertrain is a competitive contender, but for most drivers, it's the twin-turbos that are really exciting. Featuring an 8-speed automatic transmission that's fast and exceptionally calibrated, this isn't the Kia you're used to.

What to Know About the Kia Stinger
Drivers who appreciate a straight-line speed will love the Kia Stinger. At this point, Kia is an expert at creating this capability in Stingers, and it's proven itself in various test drives. In "normal" driving it also does well for those commutes, road trips, and errands. Every GT includes Brembo brakes, which are a powerful solution for quick stops while nicely fitting within the realm of higher-performing sedans.
Ultimately, the Stinger is for everyone—especially those who enjoy a racy, fast vehicle that easily shifts between daily driver and royalty on the road. It's the perfect choice for longer trips on winding roads or simply for making a statement. For those new to the Kia family, forget what you think you know about the manufacturer. It's gone under a massive overhaul in recent years and is now creating models like the 2020 Kia Stinger that are taking on masters in the sports car industry.
However, a test drive will tell you everything you need to know. Whether you're looking for a new Kia Stinger or are interested in getting a great deal on a used model, visit our showroom today and get re-introduced to the Kia family. This is the perfect, roomy, zippy sedan that you've been looking for. Suitable for families, traveling, and of course the solo driver, experiencing the power of a Stinger is an absolute must for anyone looking for their newest ride. You can shop the Kia Stinger for sale in Kennesaw today online or simply stop by Jim Ellis Kia of Kennesaw.