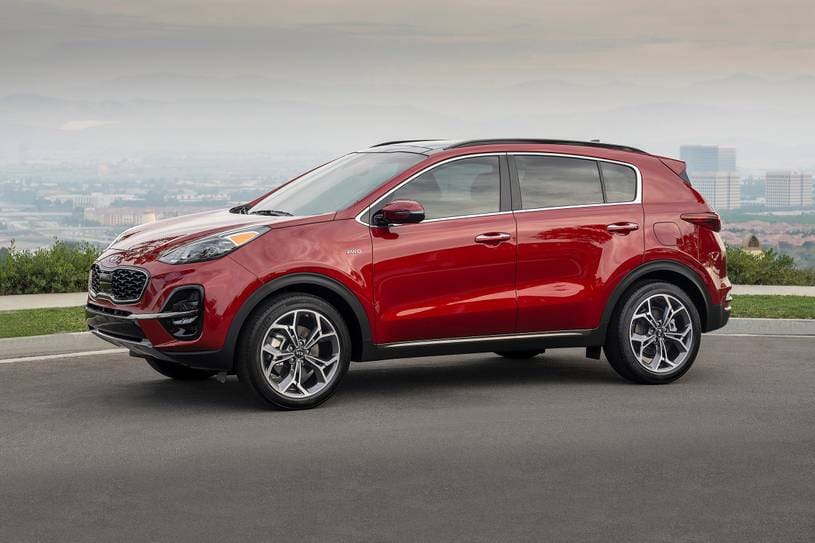 If you're looking for an affordable compact SUV, there's no doubt you've considered both the Honda CR-V and Kia Sportage. But since there are so many factors that go into buying a car, we've done our best to simplify the decision for you.
In truth, both SUVs have their own strengths and weaknesses and we're going to cover those as we compare the Honda CR-V and Kia Sportage in a side-by-side comparison.
Let's start with a few highlights.

How does Kia Sportage compare to Honda CRV?
If you're looking for an affordable compact SUV, it doesn't get better than the Sportage. The CR-V simply can't compete in price. But in this case, price doesn't equate to reliability. The Sportage actually has better ratings and a stronger warranty than the Honda CR-V.
The Kia Sportage also wins out on hauling capacity, and it comes with more standard features than the CR-V.

Is a Kia Sportage a reliable car?
Now, it's time to tackle the elephant in the room. Honda has an impeccable reputation for reliability, so how does the Sportage compare?
One of the best ways to get an unbiased report is to look at reputable third-party evaluations, like J.D. Power ratings. Both the 2020 Kia Sportage and the Honda CR-V scored an 82/100 on reliability ratings.
So we know that the cars are both reliable, but Kia stands behind its compact crossover with a comprehensive warranty program.
For limited basic coverage, you'll get a 5-year/60,000-mile warranty with Kia and only a 3-year/36,000-mile warranty with Honda.
Honda offers a 5-year/60,000-mile powertrain coverage that doesn't hold a candle to Kia's 10-year/100,000-mile limited powertrain warranty.
And with Kia, you'll also get two more years or 24,000 miles of roadside assistance.

Sportage vs. CR-V Performance
Although reliability is probably the most important things people look for in a family SUV, performance also matters. Most people are looking for a good balance between a reliable vehicle and an engaging drive.
So, let's dig a little deeper to find out how the Sportage and the CR-V fare.
Both compact SUVs come equipped with 2.4-liter I-4 engines, so the base models are going to exhibit very similar performance.
Things start getting more interesting with the available upgrades, though.
With a 2020 Kia Sportage, you can upgrade to a 237 horsepower engine with 260 lb-ft of torque. And with a 2020 CR-V, you have the option of a 190 horsepower engine with 179 lb-ft of torque.
So although the base models are similar, you can expect more power behind the wheel of an upgraded Sportage.
Both compact SUVs are comparable in terms of drive options, with front-wheel-drive standard and all-wheel-drive optional. So both vehicles are made for all-weather road conditions when properly equipped.
And if towing capacity is important to you, you'll be glad to know that the Sportage wins out here too with an additional 153 pounds of towing capacity over the Honda CR-V.
Kia Sportage Towing Capacity: 1,653 lbs.
Honda CR-V Towing Capacity: 1,500 lbs.

Bottom line
The 2020 Kia Sportage was built to exceed all expectations and this is very clear when you compare it to the Honda CR-V. Not only is the Sportage more affordable, but it excels in virtually every area.
If you're looking for a new Kia Sportage, you're in the right place. Contact us to schedule your test drive today.