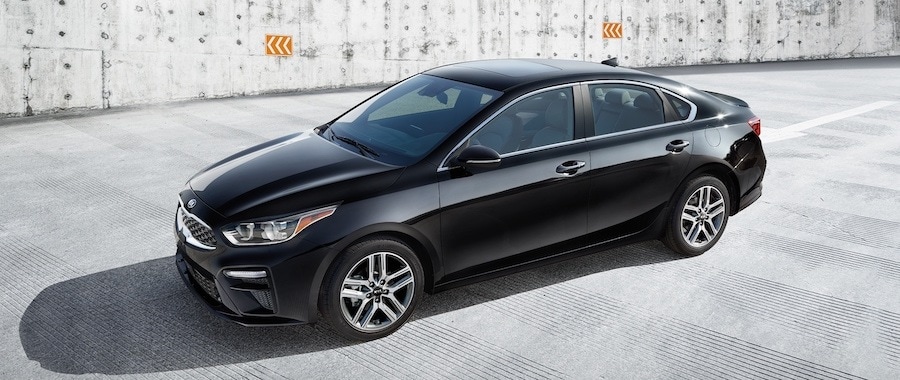 The most important features in any vehicle are the ones you want and need, and that being said, the 2020 Kia Forte has a lot to offer. It comes loaded with standard features including an intuitive infotainment system and a larger trunk to ensure ample storage and cargo space. You can count on solid gas mileage and seats for all that are spacious and comfortable. New in 2020 are the GT and G-Line trims, while the S-Line has now been discontinued. The 2020 Forte is a popular vehicle which seats 5, and you can expect up to 31 city miles or 41 on the highway. It's an ideal commuter vehicle or pick for anyone who spends a lot of time on the road—and wants to look good doing it.
Featuring a forward drivetrain and up to 201 horsepower depending on trim, you can see that this is a vehicle that marries power with convenience and comfort. In other words, it's a car for everyone. The stylish design is a competitor in the world of compact cars, and it received the US News 2020 "Best Compact Car of the Year" award for "money" because it's so budget-friendly.
What is the Difference Between LX and EX Kia Forte?
The price is likely the first thing you'll notice between the 2020 Kia Forte LX and EX models. The LX is available below $20,000, making it a perfect base model, commuter vehicle, or choice for a newer driver. However, for those who want more power and luxury, upgrading to the EX model is an excellent choice. Both have a 2.0-liter inline-4 engine, but the LX gets slightly better mileage. There is a small 4.3-inch touchscreen available in the LX, but you get the larger 7-inch standard in the EX.
There's a reason all trim types are popular with the 2020 Forte, and that's because this is a vehicle renowned for its performance and price. You have a total of three trim levels to choose from, so there's truly the right Forte out there for you. As one of the most affordable compact cars available at every trim level when it's put head to head with competitors, it can be tough to consider buying anything but a 2020 Kia Forte.
How Much is the Kia Forte 2020?
You can find 2020 Kia Fortes starting for just under $18,000. At this trim level, the Atkinson Cycle motor is designed for efficiency, which is why the LX trim promises the best gas mileage. You can pair it with a manual transmission, which is the standard, and get impressive mpg—but switch it up for an automatic transmission and you can get up to 38 highway mpg.
The EX trim begins at $21,300 and boasts a lot of thrills along with that small price jump. It's only available as a six-speed automatic, but you're still going to get 33 mpg on the highway. The base-level has a four-speaker sound system with Sirius XM satellite radio and Bluetooth connectivity, but if you want to upgrade to the EX, you can get those perks plus a push to start button and more.
Ready to find your dream car? Start shopping for your
2020 Kia Forte for sale in Kennesaw
today or stop by the showroom to take one on a spin.