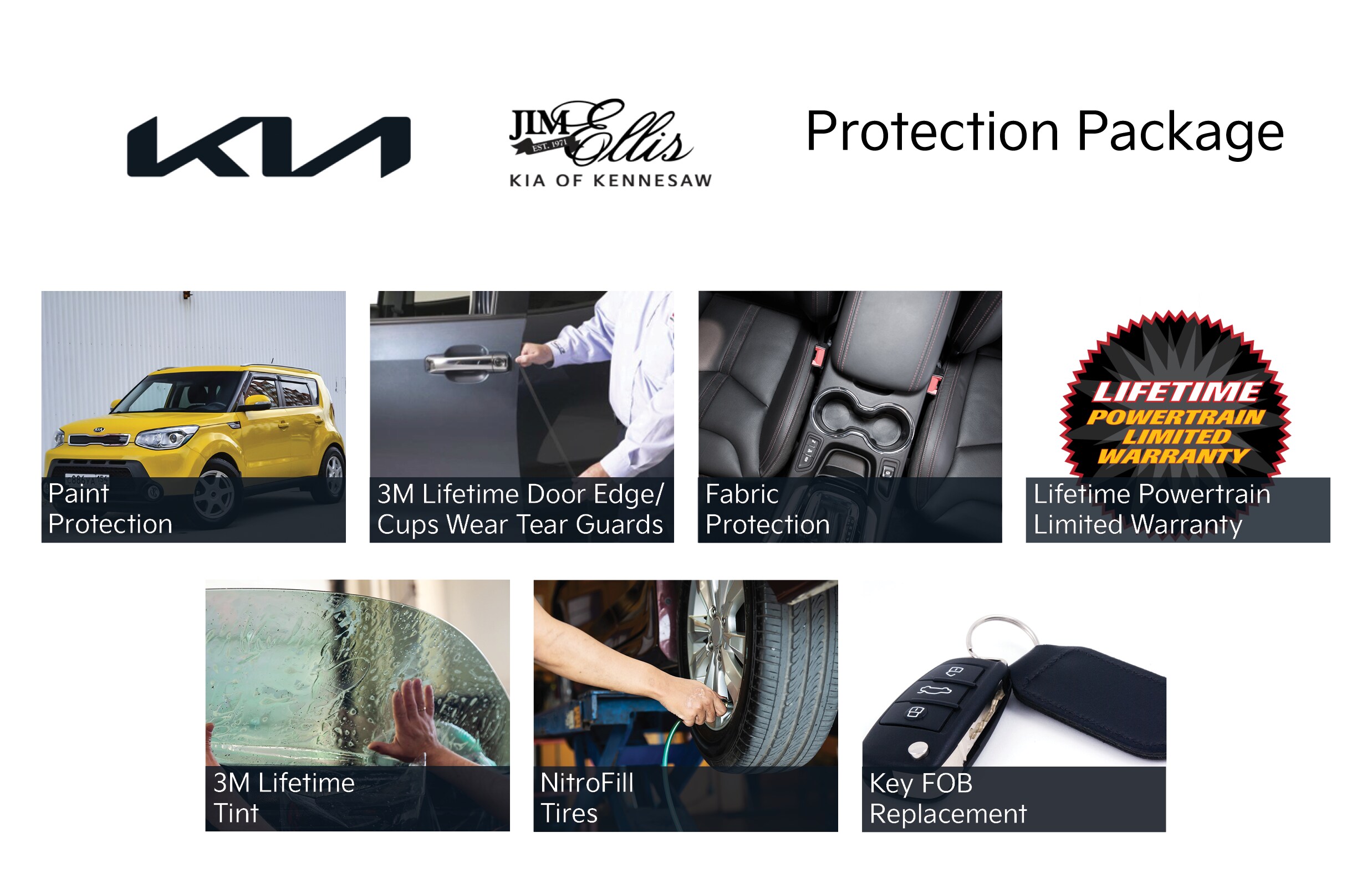 Driving home in a new car is magical. There's the new car smell and everything is gleaming like its never been touched -- because it almost hasn't.


But even with normal wear, it seems like you're refilling tires and worrying about dulling spots in your exterior paint way too soon.
There has to be another way, right?
Well, now there is. The Jim Ellis Protection plan can help your new vehicle have that new car feel for years.
With the Jim Ellis Protection Plan, you can enjoy the benefits of paint protection, NitroFill for your tires, and 3M protection for your door edges and your window tint. It's really one of the best ways to ensure your car holds its resale value.
And if you get locked out, the Jim Ellis Protection Plan has you covered with Key Fob Replacement.
Read on to learn all you'll get when you sign up for the Jim Ellis Protection Plan.
Benefits of Paint Protection Scotchgard
Protect your car's exterior from damage from road salt, hard water, tree sap, insects, bird waste, acid rain, and more. If you do notice damage, the Protection Plan will cover repairs and surface retreatment on affected areas.
Benefits of Fabric Protection
Are you tired of scraping gum and scrubbing makeup off your seats? Let the Scotchguard Protector save your seats from stains like pet stains, gum, crayons, ink, makeup, lotion, and more. If damage occurs, areas will be repaired or replaced and surface retreated. Defense against rips, tears, cracks, and loose stitching caused by weather or UV weakening of the fabric/leather/vinyl. Rips or tears less than 2 inches in length or punctures less than 1/4 inch in diameter will be repaired, or if not repairable, replaced, and surface retreated.
Benefits of Key FOB Replacement 
If you've ever locked yourself out of your vehicle or lost a key fob, you know what comes next. It's not exactly easy or inexpensive to get a replacement automotive key. But the Jim Ellis Protection Plan takes the headache away with 24-hour vehicle lock-out assistance, a key retrieval reward program, additional key replacement coverage, and 24-hour home lock-out assistance. The program covers the cost of a taxi, towing, loaner, and valet assistance. You'll even enjoy a car rental savings program to make the process go more smoothly.
Benefits of 3M Door Edge/Cup Wear Tear Guards*
Protect vulnerable door edges with 3M Door Edge Protection Film. This film is a super-tough 6-millimeter thick clear coat urethane that protects your door edge from concrete walls, guard rails, or posts.
*Backed by 3M
Benefits of 3M Lifetime Tint*
Reduce heat, increase privacy, and block harmful UV rays with 3M's Lifetime Tint. With Lifetime Tint, you can also boost safety by reducing glare.
Benefits of Nitro
FillEnjoy better gas mileage and increase your tire life with NitroFill. Nitrofill increases your tire life by as much as 50% and increases your fuel economy as much as 10%. Nitrofill also decreases your chances of experiencing a tire failure by as much as 75%.
Benefits of Powertrain Limited Warranty
Our Powertrain Limited Warranty covers the engline block and cylinder heads and all internally lubricated parts including: intake and exhaust manifolds, water pump and pulley; fuel pump; thermostat and housing; valve, timing and side covers; engine mounts; harmonic balance, flywheel and ring gear; seals and gaskets. Transmission/Transaxle/Transfer Case and all internally lubricated parts including: torque converter; pressure regulator valve and switches; solenoids; transmission/transaxle clutch, drums, pistons and steel plates; speedometer gears; bell housing; transmission mounts; seals and gaskets. Drive Axle: Differentials/axle housing(s) and all internally lubricated parts including: CV joints; front wheel drive axle/half shafts and wheel bearings; u-joints; prop shafts; center support bearings; seals and gaskets.