You've chosen the right brand. Now let our 2022 Kia Carnival vs. 2021 Kia Telluride comparison page help you select the right vehicle for your family. You'll want to scroll all the way through this research page because we'll highlight all the key specs to help you understand these two incredible models. If you're new to the brand, then hang with us and keep clicking to our other research pages and compare the Kia Carnival to the Kia Sedona!
2022 KIA Carnival vs. 2021 KIA Telluride: Model Trim Shootout
Apples to apples or apples to oranges? Kinda a little bit of both. In one sense, the Kia brand values are built into the foundation of each of these awesome vehicles. That said, we've got two different body styles, each one with its unique advantages based on your lifestyle. So let's take a look and compare the Kia Carnival and Kia Telluride based on utility and trim.
---
KIA CARNIVAL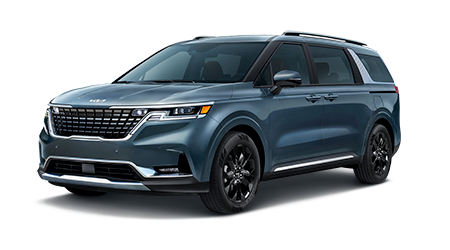 | | |
| --- | --- |
| Models: | LX, LXS, EX, SX, SX Prestige |
| Horsepower: | 290hp |
| Drive Type: | FWD |
| Towing capacity: | 3,500 lbs |
| Body style: | Minivan |
| EPA estimated range: | 361 |
| Base MSRP: | $32,100 |
KIA TELLURIDE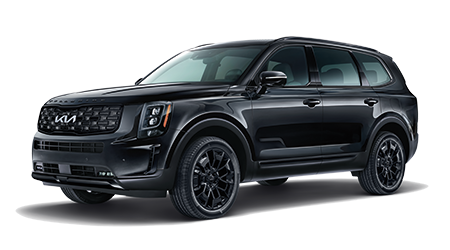 | | |
| --- | --- |
| Models: | LX, S, EX, SX |
| Horsepower: | 291hp |
| Drive Type: | FWD |
| Towing capacity: | 5,000 pounds |
| Body style: | SUV |
| EPA estimated range: | 376 |
| Base MSRP: | $32,190 |
---
The Kia Carnival - is the newly resigned minivan option replacing the Sedona. It comes with a whole new attitude, plenty of standard safety, and five trims, including the Carnival LX, Carnival LXS, Carnival EX, Carnival SX, and Carnival SX Prestige. An 8" touchscreen infotainment comes standard (with two 12.3" units available), as does plenty of USB charge ports and ADAS safety, including favorites like blind-spot monitoring, auto high beams, lane-keep assist, pedestrian detection, forward collision detection, and automatic emergency braking. With all of the available trims, you can build yours to do battle with smashed snacks & dirty dogs or to offer an ultra-luxurious cruiser.


The Kia Telluride - is the redesigned three-row SUV that has taken the world by storm. This luxurious family hauler now benefits from newly sculpted body panels, an upgraded (and standard) 10.3" infotainment center, semi-autonomous adaptive cruise control, blind-spot monitoring, lane departure & lane-keep assist, forward collision warning, pedestrian detection, and automatic braking. With four versions available (LX, S, EX, SX), you're sure to dial in the comfort right where you want it.
So which one is right for you? There's capability in the SUV that can't be beaten. But if you're going to be driving places mostly on pavement, then you might love the fact that the Carnival offers convenient access from both sides of the vehicle with mammoth sliding doors.
2022 KIA Carnival vs. 2021 KIA Telluride: Specs & More
When you're considering the Carnival vs. Telluride for your family, you know that all the little details matter. So let's take a look at how each one caters to different needs, so you can quickly determine which one you'll want to test-drive first!
The Telluride features a 3.8L V-6 that generates 291 horsepower. 2WD is standard, though AWD is an option across the model range. The Telluride gets slightly better fuel efficiency than the Carnival, but both models feature the same eight-speed automatic transmission.
The Carnival also has a naturally aspirated V-6 and delivers 290 horsepower. FWD is the only configuration available for sending power to the ground, but space & cargo are designed to accommodate all members of the traveling circus. The Kia Carnival offers 40.2 cubic feet behind the third row, a total of 86.9 cubic feet behind the second row, and a monstrous 145.1 cubes behind the front row. This is nearly double all volume specs point for point with the Telluride.
If you're looking for luxury, both models can be made red-carpet ready in no time. Stunning leather color combinations are available on both models, as are upgraded audio, ventilated seats, technology packages, and accessories that support just about everything you do from towing, exploring, and beyond! In terms of Kia Carnival vs. Kia Telluride goodies, you can't go wrong with either.
Continue your research and jump to our Kia Telluride vs. Hyundai Palisade page and see how these luxurious corporate cousins stack up, or keep reading for some more details in our FAQ section.
2022 KIA Carnival vs. 2021 KIA Telluride: FAQs
Your family is going places. You want them to travel and arrive feeling refreshed and ready to go. But which vehicle is best? Maybe some of the answers to our most common questions will help you decide.
Which is bigger? The 2022 KIA Carnival or 2021 KIA Telluride?
Curiously, both are bigger. In terms of sheer exterior volume, the Kia Telluride measures 203" L x 79" W x 70" H. And though the Kia Carnival might actually appear to be a few inches shorter, measuring in at 197" L x 78" W x 69" H, the Carnival has nearly double the interior cargo volume of the Telluride.
What is the price difference between the 2022 KIA Carnival vs. Telluride?
As you can see from the above research page, the Kia Carnival and Kia Telluride are close cousins. They have nearly all the same features, nearly the same level of trim, and impeccable style. As such, you'll find that both vehicles are neck and neck with pricing. The Carnival has a base MSRP starting at $32,100,1 while the Telluride has an MSRP starting at $32,190.1
Does the 2022 KIA Carnival have stow-and-go seats?
Mixing it up to help families get the most out of their mid-row, the Kia Carnival has a mid-row that can slide, fold, recline, and even be used as a central snack table!
2022 KIA Carnival vs. 2021 KIA Telluride: Summary
The Kia Sedona has been revised and has given way to the all-new Kia Carnival. This reimagined Multi-Purpose Vehicle has SUV styling, with the car-like comfort that was always a signature element of the Sedona. The Kia Telluride is now off and running, having gained status over the last few years as a proper luxury SUV. Both offer refinement. Both offer attractive price points. Both are designed for today's modern family. If you're still deciding between the Kia Carnival vs. Telluride, perhaps browsing our curated Kia Telluride lease deals will help you make that final decision…
---
1"Starting MSRP" is manufacturer's suggested retail price (MSRP) for base model trim. MSRP excludes destination and handling charges, taxes, title, license, options and dealer charges. Actual prices set by dealer and may vary. Kia America, Inc. reserves the right to make changes at any time as to vehicle availability, destination, and handling fees, colors, materials, specifications, features, accessories, packages and models. Not responsible for typographical and computer errors. Other options available for other trim levels. Some color, package, and option selections may include, exclude, or require the purchase of additional options and packages. All exterior and interior images and specifications contained on this website are based on latest product information available at the time of posting and may vary slightly from actual product. See retailer for details.