Kia Electric and Hybrid Vehicles in Atlanta, GA

The range of electric vehicles made by Kia, which we'll call EV Kia cars, offers muscular performance and fantastic savings at the pump. During this time of high fuel prices, getting into a new all-electric or hybrid Kia vehicle is a great way to help stretch the family budget while still getting to drive a new automobile.
This article will look at a wide variety of vehicles from Kia. Some are all-electric cars that don't use a drop of gasoline. Others are hybrid vehicles, which use a battery-and-motor system alongside their engine to drive more efficiently. Finally, some plug-in hybrid electric vehicles in the EV Kia lineup have more powerful batteries than standard hybrids and can even drive for a couple of dozen miles on electricity alone.
EV Kia Vehicles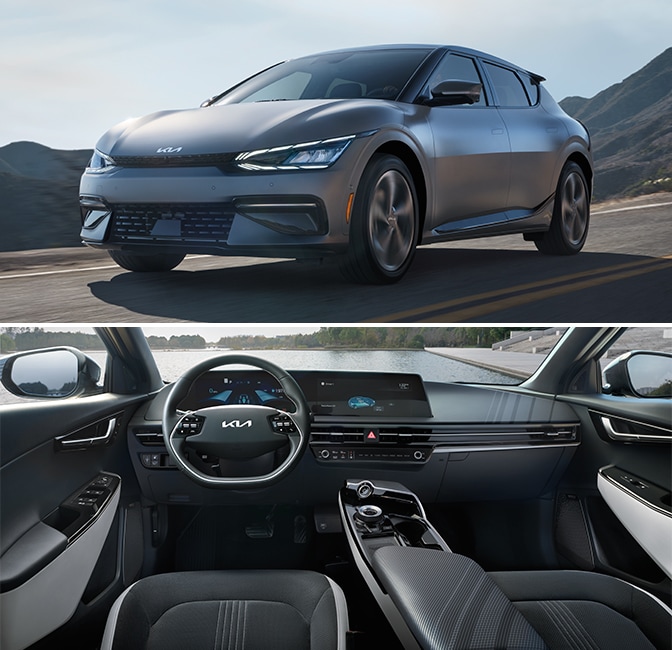 Kia EV6
The Kia EV6 is the first dedicated all-electric vehicle to be designed and released by Kia. It is also the first vehicle to run on the company's Electric Global Modular Platform (E-GMP), which will underpin future all-electric Kia cars. This all-electric compact crossover SUV offers more customization options than most of its competitors on the market today.
The base model of the Kia EV6 has a single motor mounted on its rear axle, providing 167 horsepower and rear-wheel drive. This configuration comes with a 58-kWh battery and an EPA-estimated range of 232 miles.1 There is a larger 77.4-kWh battery pack that, when paired with the single motor, raises the vehicle's horsepower output to 225.
You can also purchase the Kia EV6 with a motor on each axle, which offers all-wheel drive. Both versions of the all-wheel drive Kia EV6 use the larger battery pack, but they have different horsepower ratings. Some models have 320 horsepower, while the top-of-the-line Kia EV6 GT-Line AWD enjoys a whopping 576 horsepower. This model can reportedly shoot from 0 to 60 in less than 4 seconds.
Kia EV6 models with the larger battery pack have a maximum EPA-estimated range of 310 miles.1 Your passengers will be awed by your new car's performance and your new ability to pass by gas stations without in Atlanta, GA, ever stopping. This vehicle stacks up well against other commercially available electric vehicles — read as we compare the Kia EV6 vs. Tesla Model 3 to see for yourself.
Kia made a significant effort to see the Kia EV6 charge quickly. The battery can be charged from about 10 percent to 80 percent in less than 20 minutes if you have access to a 350-kW fast charger. The onboard 11-kW charger will let you fill the battery in about seven hours if you're hooked up to a Level 2 outlet, which many folks already have access to.
---
Kia Niro EV and Hybrid Options
The Kia Niro has been a part of the Kia lineup before it was an electric vehicle, but it has been available as a gasoline-free vehicle for several years. This subcompact crossover offers excellent performance, a comfortable cabin, and more. You can compare the Kia Niro vs. Tesla Model Y or continue reading to learn more about this sleek vehicle.
The Kia Niro EV has one available configuration for its battery-and-motor propulsion system. The motor is attached to the front axle and produces 201 horsepower. It can hit 60 from 0 in a bit more than 6 seconds, which is faster than several rivals. You can read more about the Kia Niro SUV's matchup with one of them if you compare the Kia Niro vs. Hyundai Kona Electric.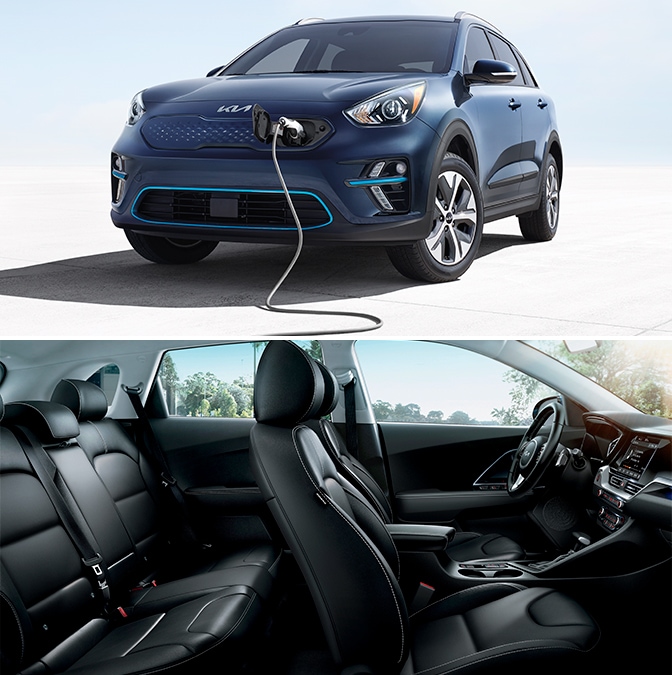 The 64.0-kWh battery that fuels the Kia Niro EV has an EPA-estimated range of 239 miles.1 You'll be able to run errands all over town for days without having to stop for more juice, and you can even cross state lines on a single charge. This vehicle can be recharged with a 120-volt or 240-volt connection. Using a 120-volt charger takes less than a day to fill up, while a 240-volt connection gets you there in roughly nine hours. The vehicle can also be recharged with DC fast-charging; this lets you add an 80 percent charge in about an hour.
The Kia Niro can be had as an all-electric vehicle or as a hybrid. The Kia Niro PHEV and the mild-hybrid version use the same powertrain. It consists of a 1.6-liter four-cylinder engine and an electric motor paired with a battery pack (the PHEV version has a larger one). The system makes 139 horsepower. The Kia Niro PHEV gets a jaw-dropping EPA-estimated 105 MPGe (combined).2
No matter the specific configuration you select, the Kia Niro will help you save money at the pump while you ferry your family around in style. Visit us today to discuss the different Kia Niro options and to test drive this sleek SUV.
---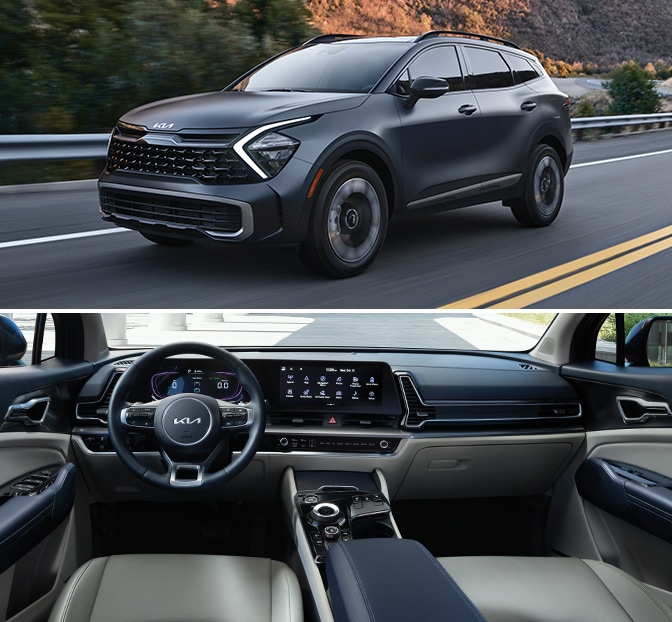 Kia Sportage Hybrid
Drivers in Atlanta, GA, can buy a hybrid Kia Sportage for the first time with the advent of the 2023 model of this compact crossover SUV. The mild hybrid can be had with front- or all-wheel drive; either way, it pairs a turbocharged 1.6-liter inline-four engine with an electric motor for a total of 226 horsepower.
The plug-in hybrid model will use the same gasoline engine but will swap the 44.2-kW motor for a 66.9-kW one, paired with a larger battery pack, for an estimated 261 horsepower. Kia also claims that this car variant can travel about 30 miles on a single charge, but we're still waiting for the EPA estimate as the PHEV version won't be released until mid-late 2022.
---
Kia Sorento Hybrid Options
The Kia Sorento is a mid-size SUV, making it the biggest of the vehicles discussed on this page. Drivers will appreciate its spacious interior, great performance, and the fuel economy of its hybrid powertrains. It is available as a mild and a plug-in hybrid, both of which offer savings at the pump.
The mild Kia Sorento hybrid uses a turbocharged 1.6-liter four-cylinder engine and a 44-kWh motor in its powertrain, which nets it 227 horsepower. The Kia Sorento PHEV uses the same gasoline engine but adds a 66.9-kWh battery for a total horsepower out of 261. This impressive vehicle has a maximum towing capacity of 3,500 pounds.3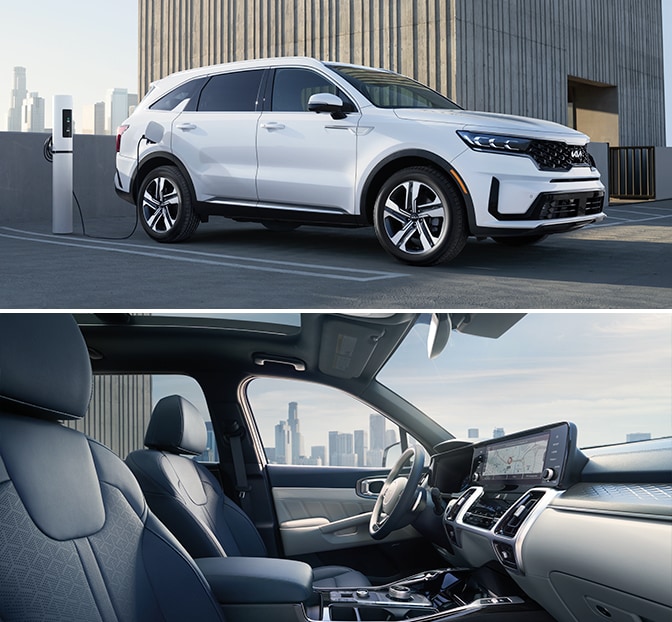 Purchase a Kia Electric Vehicle in Atlanta, GA Today
The lineup of EV Kia vehicles is wide and is comprised of all-electric and hybrid vehicles. This diverse set of cars has a few commonalities: they are durable, stylish, reliable, and can save you a pretty penny at the pump. If you're ready to start driving a new vehicle in Atlanta, GA, then check out our new vehicle inventory.
We are dedicated to customer service. Our team will do everything they can to try and secure you the competitive financing deal you deserve and to answer any and all questions you may have about our slick lineup of EV Kia cars. Come test drive your new fuel-efficient Kia today.
---
1Based on EPA estimates on a full battery charge. Actual range will vary with options, driving conditions, driving habits, vehicle maintenance, charging practice, battery age, weather, temperature, and your vehicle's condition. Battery capacity will decrease with time and use. For more information on range, please see www.fueleconomy.gov.
2EPA fuel economy estimates. Actual mileage will vary with options, driving conditions, driving habits, and your vehicle's condition.
3Towing requires additional equipment. See Owner's Manual for towing capacity and additional information and warnings. For information on proper towing procedures, please speak to a Kia representative. The Owner's Manual also features detailed towing instructions and is available for download at https://www.kiatechinfo.com; subscription required for site access.