Discover The 2024 Kia EV9: The Newest Kia Electric SUV

If you're like many families awaiting the next frontier of three-row electric SUVs, you won't have to wait long, thanks to the upcoming 2024 Kia EV9 release date. This newest and largest Kia electric SUV has debuted and is set to be available at our Atlanta, GA, Kia dealership soon. But before then, we invite you to get to know the first-ever Kia EV9 on our website.
Let our team of Kia specialists tell you about this revolutionary vehicle that's bringing the impressive performance, efficiency, and range of electric Kia vehicles to the world of family-friendly three-row SUVs.
First-Ever Seven-Passenger Kia Electric SUV Coming Soon
What makes the 2024 Kia EV9 so special? It starts with its fully electric powertrain and inclusion of seven seats in three rows. This new Kia EV is designed around you and your passengers, placing comfort, safety, and convenient technologies on par with its highly efficient and robust electric powertrain.
Following the 2024 Kia EV9 release date, you will no longer need to choose between driving a three-row vehicle or EV. You can have the best of both worlds by upgrading to this first-ever seven-passenger Kia electric SUV.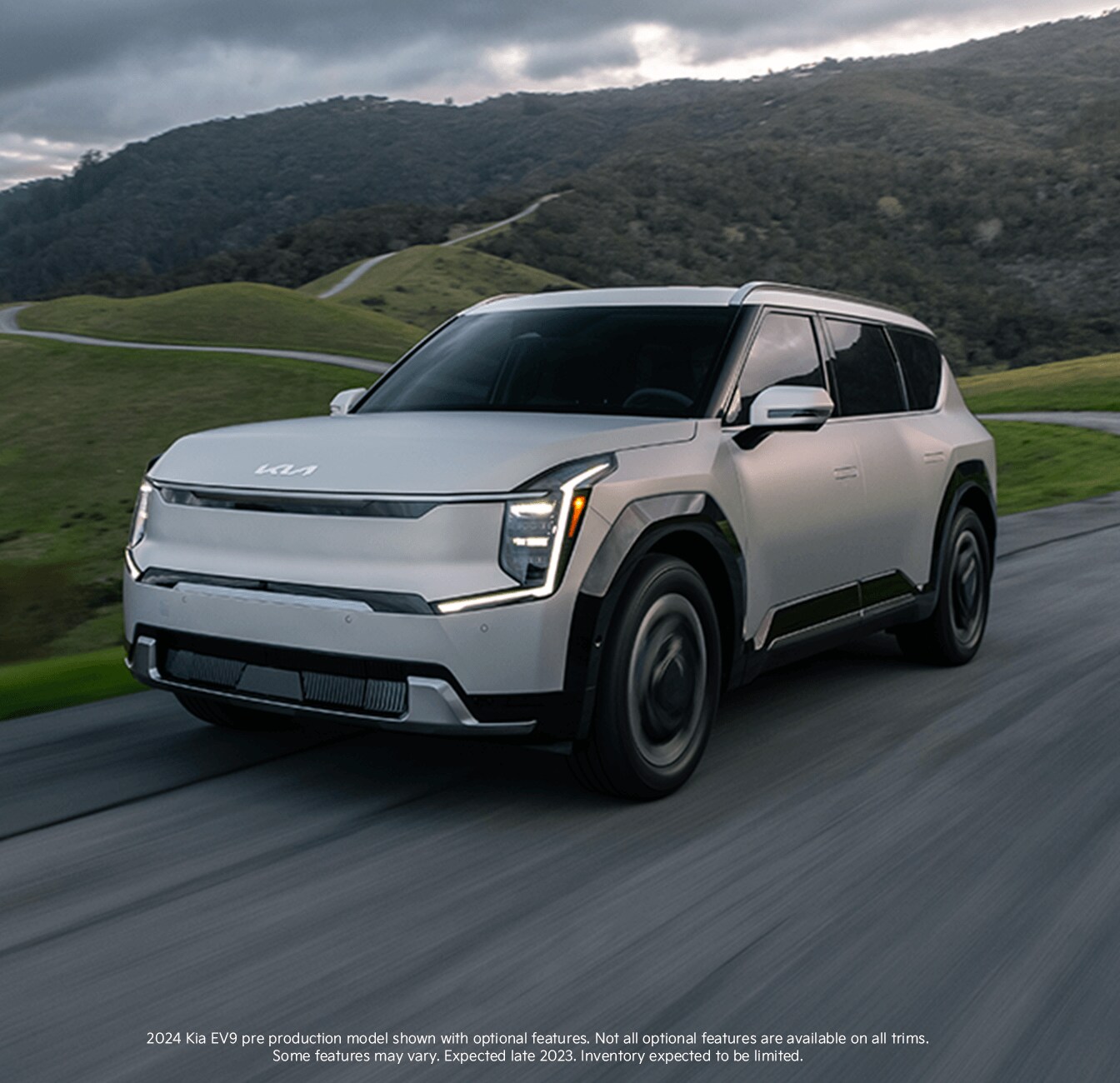 Stellar Specs: Kia EV9
When you're seeking a new SUV with near-instantaneous acceleration and a towing capacity of up to 5,000 pounds when properly equipped, you'll embrace the first-ever 2024 Kia EV9. Drivers can choose from rear-wheel drive (RWD) or all-wheel drive (AWD) when shopping for a new Kia EV9, with both versions providing instant torque from the powerful electric drivetrain.
An available 380-horsepower dual-motor AWD powertrain generates 516 pound-feet of torque and a Kia-estimated zero-to-60 time of five seconds. Between its brisk acceleration and stellar EV towing capacity, the first-ever Kia EV9 is proving to be a highly anticipated and high-performing entry into the three-row SUV segment.
---
Kia EV9 Range, Battery, and Charging
Upgrade to an upcoming 2024 Kia EV9 AWD or long-range RWD model, and you'll find an available 99.8-kWh battery with a Kia-estimated 300-mile range in the RWD single-motor setup. The automaker's industry-leading 10-year or 100,000-mile limited warranty1 also covers the EV9 battery for added peace of mind when purchasing or leasing this Kia electric SUV.
Kia targets a 300-mile range for the first-ever 2024 Kia EV9, proving that spacious three-row family vehicles with an all-electric drivetrain can go the distance between charges.
Every new Kia EV9 offers ultra-fast 800-volt DC fast-charging compatibility for convenient on-the-go charging at local public fast-charging stations. Kia EV9 owners or lessees will also have the option of installing an available Level 2 240-volt charger at their residence for plugging in and charging up while at home.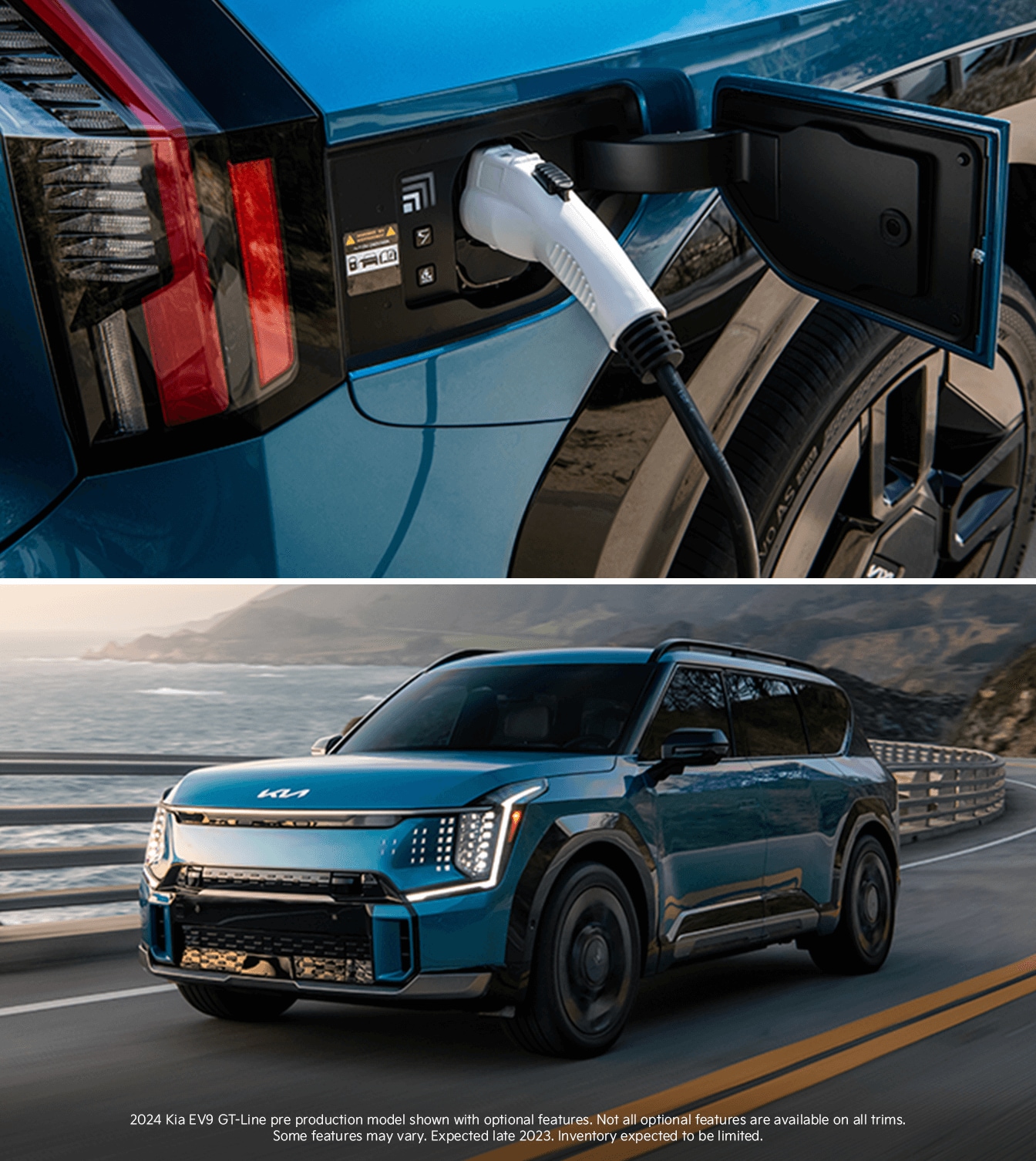 ---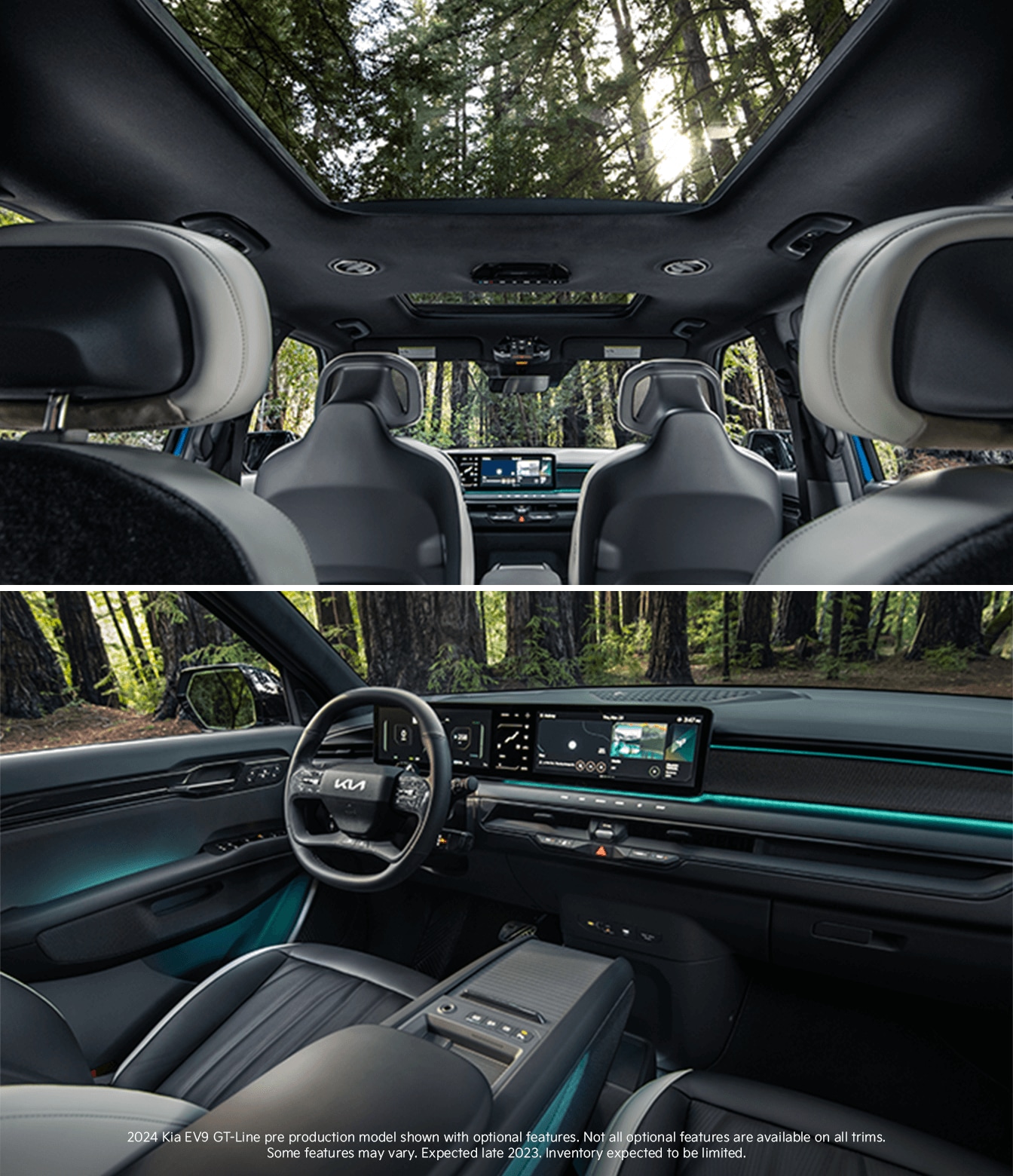 Uncover the Advanced Kia EV9 Interior
The spacious seven-passenger cabin of the Kia EV9 provides more than just a comfortable respite from the outside world. This high-tech interior houses more than 20 standard advanced driver-assist technologies, including Auto Emergency Braking, a Blind-Spot View Monitor, and a Surround View Monitor.
A Digital Cockpit inside the Kia EV9 interior boasts up to 30 inches of digital screen space displaying vehicle information, driver assistance alerts, and infotainment details and settings. First- and second-row occupants can experience next-level relaxation with reclining seats operated with the push of a button.
From its roomy three rows of seating to its extensive and expandable cargo capacity, the 2024 Kia EV9 interior provides the comfort and capability modern families seek, backed by advanced Kia safety features and tech amenities that add convenience and peace of mind to every drive.
---
Contact Us About Placing a Kia EV9 Preorder
Our Kia dealership in Atlanta, GA, is excited to introduce local EV and SUV shoppers to the latest Kia electric SUV once the 2024 Kia EV9 release date arrives. This seven-passenger EV is primed to provide Metro Atlanta families with next-generation technology and an electric driving experience that compares favorably to its closest competition.
If you're eager to secure a new Kia EV9, we invite you to contact us to express interest in a Kia EV9 preorder. Our team will then keep you updated on details and the upcoming availability of this exciting EV. Otherwise, view our new inventory online now to see the Kia EVs for sale within our current collection.
Whether you want to wait for the first-ever Kia EV9 or find your preferred version of a currently available Kia electric vehicle, you can preorder a custom vehicle through our Kia dealership.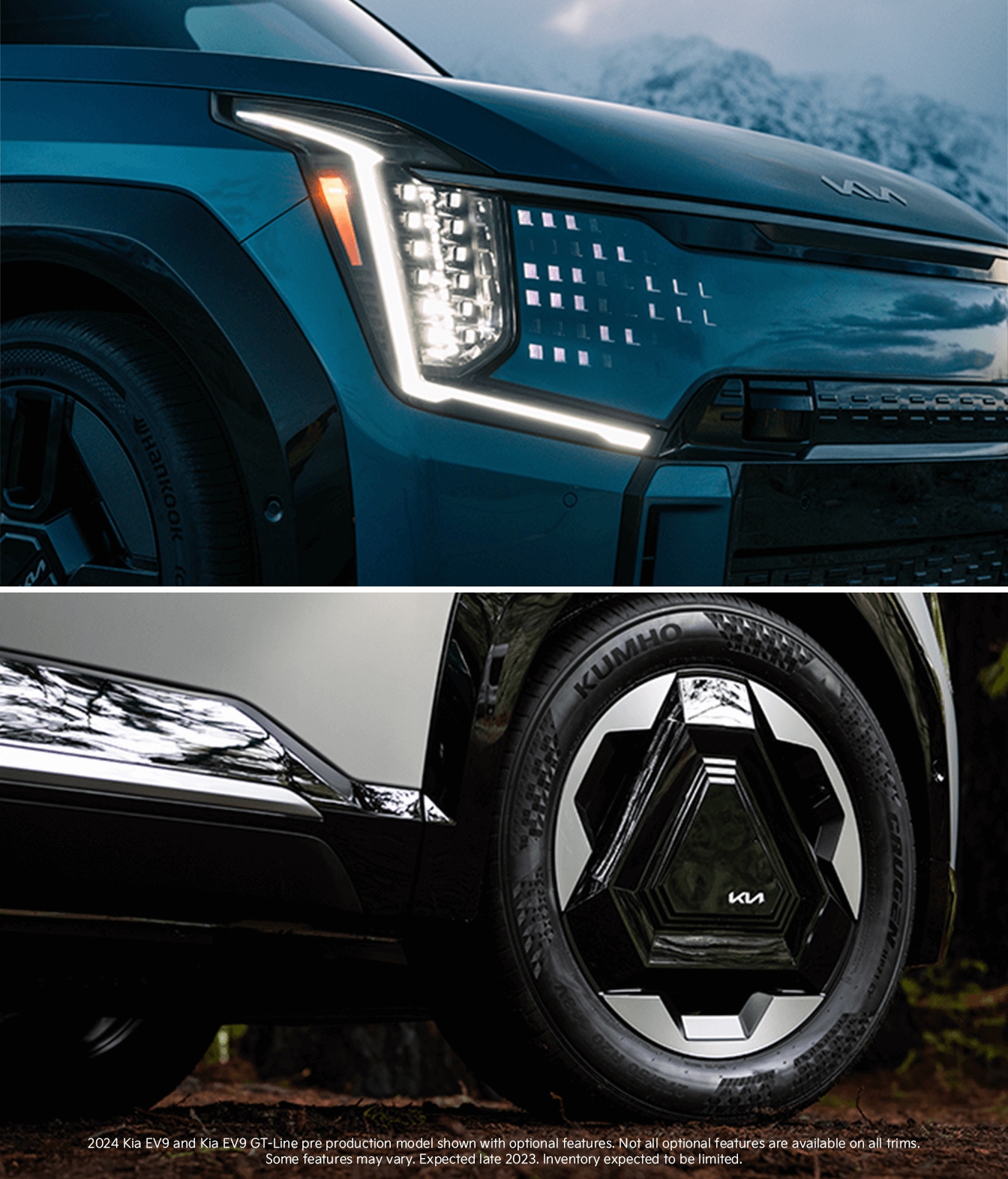 Frequently Asked Questions
When can I buy a Kia EV9?
The official 2024 Kia EV9 release date has yet to be announced, but this three-row Kia electric SUV has debuted, with availability expected later in 2023. If you're interested in securing a new Kia EV9 electric SUV in the Atlanta, GA, area, contact our Kia dealership for updates and assistance. We can help you preorder a 2024 Kia EV9 and tell you more about this new EV.
What is the seat capacity of Kia EV9?
The first-ever 2024 Kia EV9 features seven-passenger seating capacity. This all-new Kia electric SUV will include three rows of seating, with two seats in the first and second rows, plus three seats in the second row. With folding seats, you can accommodate additional cargo, or leave all seven seats upright to fill the cabin with passengers. Discover the seven-passenger Kia EV9 today.
How much horsepower does the EV9 have?
The 2024 Kia EV9 has up to 380 horsepower when a dual-motor AWD version of this three-row electric SUV is selected. Complementing that peak horsepower is up to 516 pound-feet of torque, enabling this all-new Kia electric SUV to tow up to 5,000 pounds when properly equipped. Contact our Atlanta, GA, Kia dealer for more details on the Kia EV9 performance specs.
---
1The Kia 10-year/100,000-mile warranty program includes various warranties and roadside assistance. Warranties include powertrain and the New Vehicle Limited Warranty (Basic). All warranties and roadside assistance are limited. See retailer for details or go to kia.com.