Comparing The Kia Telluride And Toyota Highlander
The battle between the Kia Telluride vs. Toyota Highlander will determine the heavyweight champ amongst full-size SUVs. These two behemoths are worthy competitors with wide dimensions that cater to all passengers. Compare in-cabin specs, interior features, and towing talent between the Toyota Highlander vs. Kia Telluride.
Size Up the Kia Telluride vs. Toyota Highlander Dimensions
Any full-size SUV comparison is likely to begin with how big the cabin is. There's a requirement to ride this ride, and both of these three-row SUVs stand out amongst the competition for how much room each has within. If you want to drive a well-rounded SUV that fits everyone and all of their favorite things, look into taking home a model with two foldable rows behind the driver. Here are a couple of notable Kia Telluride vs. Toyota Highlander dimensions.
Both cabins seat up to eight passengers comfortably. The Kia Telluride has a larger maximum cargo capacity at 87 cubic feet, more than what you'll find in the cabin of the Toyota Highlander. Compare Kia Telluride vs. Highlander passenger volume, and the Kia model also emerges victorious. Stretch out in 178.1 cubic feet of passenger volume in the new Kia Telluride.
The Toyota Highlander offers 141.3 cubic feet of passenger volume and 84 cubic feet of cargo capacity. There is less legroom and headroom in the Toyota Highlander.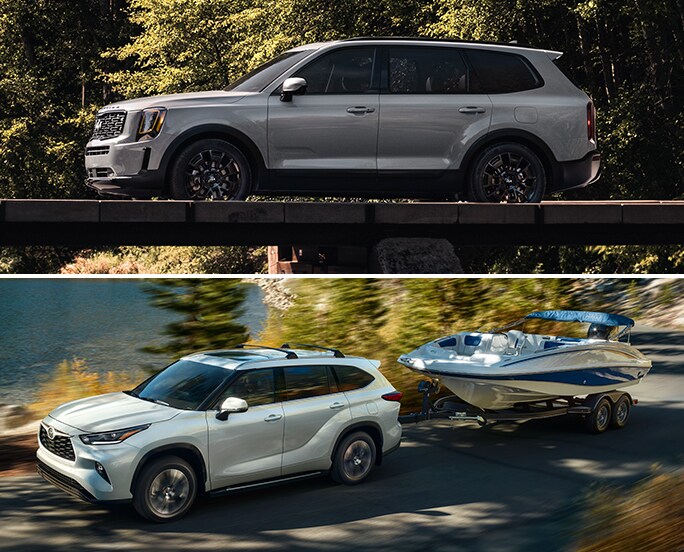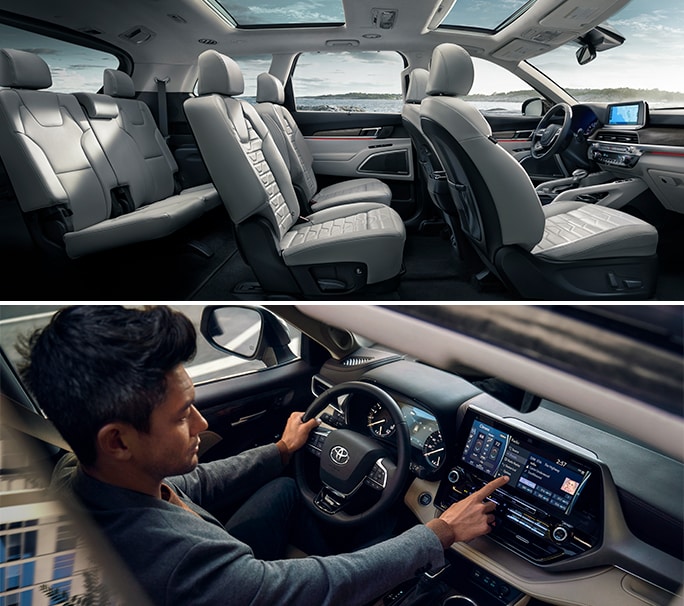 Kia Telluride vs. Toyota Highlander Interior Features
The Kia Telluride vs. Toyota Highlander interior is an even matchup, primarily defined by two very similar infotainment systems. Both cabin spaces have upgraded amenities and touchscreen displays. If you're looking for heated front seats and a steering wheel that soothes your sore hands, you're in the right place.
There are a couple of clear areas where the Kia Telluride has the Toyota Highlander running in circles. One is the display size, where the 10.25-inch standard screen in the Kia Telluride outsizes the smaller Toyota Highlander display. There is also an additional USB port in the Kia Telluride, giving it six total.
Big cars require big responsibilities and the 2023 Kia Telluride steps up to any challenge. It makes it easier for the driver to control in-cabin settings, directions, and entertainment while focusing on the road ahead. Ask our team to show you features like the available heads-up display, the hair-raising audio system, and the available captain's chairs in the second row. Effortlessly elegant materials make this cabin feel like you're settling into a first-class flight.
Kia Telluride vs. Toyota Highlander Towing Capacity
There are no wrong choices when you're evaluating Kia Telluride vs. Toyota Highlander towing capacity. That's because both of these massive road warriors can tow up to 5,000 pounds when properly equipped.
That's enough to tow trailers, small fishing boats, personal watercraft, and more. If you want to bring something extra, the Highlander vs. Telluride can both make that possible.
See how the towing capacities stack up for the Kia Telluride vs. Hyundai Palisade at our dealership today. Our experienced technicians will break down for you the source of each vehicle's towing power. Go for it all behind the wheel of a new Kia Telluride and leave the competition in the dust. The start of an adventurous trip is waiting for you on our lot.
| | | |
| --- | --- | --- |
| | 2022 Kia Telluride LX | 2022 Toyota Highlander L (FWD) |
| Horsepower | 291 hp @ 6,000 rpm | 295 hp |
| Towing Capacity1 | 5,000 pounds | 5,000 pounds |
| Torque | 262 lb.-ft. @ 5,200 rpm | 263-lb-ft |
| EPA-Estimated Fuel Economy (city/hwy/cmbd)2 | 20/26/23 | 21/29/24 |
| Maximum Cargo Capacity | 87 cu. ft. | 84.3 cu. ft. |
| Seating Capacity | 8 passengers | 8 passengers |
| Engine | 3.8L V-6 Engine | 3.5L V-6 8AT |
FAQ About Kia Telluride vs. Toyota Highlander
Here are a few questions our technicians often answer from drivers comparing full-size SUVs. If you'd like to know more about the Toyota Highlander vs. Kia Telluride, give our showroom a quick call or contact the team through our website.
Is the Kia Telluride bigger than a Highlander?
Whichever way you want to measure it, the 2022 Kia Telluride is a larger and more spacious vehicle than the 2022 Toyota Highlander. You'll quickly realize the difference when you enter the Kia Telluride cabin, which has more space for passengers and cargo. The Kia Telluride has more interior legroom and headroom without you having to make any adjustments.
How much cargo space does a Kia Telluride have?
The 2022 Kia Telluride LX has 87 cubic feet of cargo space. The 2022 Toyota Highlander has only 84.3 cubic feet of cargo space. The Kia Telluride also has more passenger volume and a larger fuel tank. When you stack these two full-size SUVs up side-by-side, the Kia Telluride emerges as the bigger option across the board.
How much can a Kia Telluride tow?
A Kia Telluride can tow up to 5,000 pounds when properly equipped. That's more than enough power to come in handy when it's time to go to the beach, lake, or campground. Test-drive this model at our dealership and see for yourself how much muscle the Kia Telluride has.
---
1Towing requires additional equipment. See Owner's Manual for towing capacity and additional information and warnings. For information on proper towing procedures, please speak to a Kia representative. The Owner's Manual also features detailed towing instructions and is available for download at https://www.kiatechinfo.com; subscription required for site access.
2Learn more about Kia fuel economy at kiampginfo.com.