2018 Kia Stinger Driving Impressions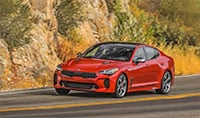 The turbocharged 2.0-liter four-cylinder is a fine engine that makes a decent 255 horsepower, but it can't run with the turbo fours from BMW, Audi, Mercedes or Chevrolet.
The twin-turbocharged 3.3-liter V-6 is another story, offering responsive and smooth thrust with a refined howl. It can accelerate from zero to sixty in 4.7 seconds and hit a top speed of 167 mph. On the street, in Sport mode, the 8-speed automatic transmission delivers shifts that are quick and smooth, although not as sharp as a good dual-clutch, or even the best automatics.
Four drive modes adjust transmission response, as well as throttle response, suspension damping, stability control, and traction with all-wheel drive. They're Sport, Smart (which learns your behavior), Eco, and Custom, which is configurable.
It's no accident that this is the best handling Kia ever built, neutral and predictable. Kia hired the chief engineer from the BMW M series, who went straight to the Nurburgring for chassis development. He had a rigid body to work with, being 55 percent high-strength steel (Hyundai-Kia is also a steel company). The front MacPherson struts have an aluminum brace between them, while the rear subframe is stiffened around the five-link independent suspension.
The steering is direct, the cornering is stable, and the ride is smooth, even with the dampers in Sport mode. However the agility doesn't match European standards.
In everyday driving with traffic, the Stinger mostly strikes us as easy: easy to drive, nice ride quality, easy to live with.
The GT features four-piston Brembo front brakes, adaptive dampers, and rack-mounted electric power steering with variable ratios. Kia boasts that the GT is at home on the track, but we found it to be hampered there. It's a bit too heavy, the dampers aren't firm enough, and the tires aren't wide or grippy enough, causing the stability control to be intrusive. On the track there's too much body roll at turn-in, making transitions awkward, and the transmission can get confused, even using the paddles.
The GT's four-piston front rotors are a huge 13.8 inches and the two-piston rears are 13.4-inches, so they'll never fade on the street. The 19-inch Michelin Pilot Sport 4 tires, 225/40s up front and 255/35s out back, shouldn't give up there, either.
The rear-wheel-drive GT2 has a mechanical limited-slip rear differential, while all-wheel-drive versions get a torque vectoring system that brakes the inside wheels in a turn, to rotate the car. If we had driven the GT2 on the track, instead of the GT, our impressions might very well be different.