Why Buy A Certified Pre-Owned KIA?

Customers often ask us what makes Kia certified pre-owned (CPO) vehicles such a strong choice. The "pre-owned" label gets a boost, as CPO vehicles take it to the next level. Confidence is comprehensive, and so are the benefits. So, here's what's involved with a CPO Kia vehicle.
What's Different Between Pre-owned and KIA Certified Pre-owned?
We'll start with another question: When you're deciding between a new or used vehicle near Marietta, what drives you to choose one over the other?
A new car is a top choice when confidence is your main factor, as every component meets factory specifications, and the vehicle comes with a warranty to back that. The main factor for a used car is typically a value-packed price and a wide selection of models and model years.
You're probably wondering whether or not those two values can be combined. They can, and that's the difference our Kia certified pre-owned inventory offers.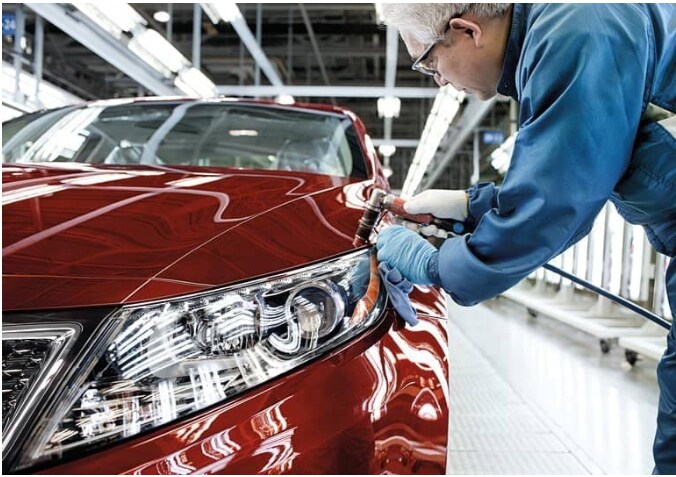 Hours
Monday

7:30 AM - 7:00 PM

Tuesday

7:30 AM - 7:00 PM

Wednesday

7:30 AM - 7:00 PM

Thursday

7:30 AM - 7:00 PM

Friday

7:30 AM - 7:00 PM

Saturday

7:30 AM - 7:00 PM

Sunday

Closed
Can Any Vehicle Become KIA Certified Pre-owned?
No. Part of that new-car-like confidence revolves around high standards for eligibility.
Every vehicle considered for our Kia certified pre-owned inventory must be the cream of the crop. Every vehicle in the selection has a CARFAX® Vehicle History Report run to determine their eligibility.
What Does a CARFAX® Vehicle History Report Determine?
Firstly, it reveals the entire life lived by the vehicle, illuminating factors like service history, ownership change, accidents reported, and more. Any issues found that don't meet the demanding standards set forth are identified. Part of this is the vehicle's title, and it absolutely must be a clean, non-branded title to be accepted.
In essence, it determines that the certified pre-owned Kia Telluride you're looking at has lived a trouble-free life.
How is a Certified Pre-owned KIA Near Atlanta Inspected?
A CARFAX® Vehicle History Report reveals a lot, but not everything. Our service center in Kennesaw leads the way in painting the full picture. The vehicle rolls into our service bay, and our certified technicians perform an inspection. It's carried out over 164 points to ensure that like-new quality applies throughout the vehicle.
What Does the 164-Point KIA Certified Pre-owned Inspection Cover?
Almost everything. Whether it's a certified pre-owned Kia Sportage or a Kia Stinger, the list is the same, and the list is comprehensive. We can't fit every last part here, but some key components that the inspection can cover include :
Mechanical systems:
Engine and transmission
Braking system
Fuel system
Exhaust system
Engine cooling system
Climate control systems
Hybrid or EV battery and motor systems
Electrical systems:
Battery performance
Charging system performance
Infotainment system
Sound system
Cruise control (if equipped)
Interior lights
Head and taillight operation
Instrument, display, and gauge operation
Body and interior condition:
Body panel and molding condition
Spare tire condition
Upholstery condition
Glass condition
Carpeting condition
Interior trim condition
And much more. You can drive down from Woodstock knowing the vehicle you've chosen is like-new inside and out.
What Does the KIA Certified Pre-owned Road Test Determine?
It's another crucial step to ensuring like-new quality. All that inspecting was performed with the vehicle stationary; some issues only reveal themselves on the road. Whether a Kia Sorento or Kia Telluride, certified pre-owned road testing determines the following:
Engine performance at idle
Engine performance at operating temperature
Engine and transmission performance at operating speeds
Braking system operation
Automatic transmission performance
Manual transmission and clutch performance
Steering operation
Vehicle tracking in motion (no wandering)
Fit and finish while in motion (no rattles, squeaks, or vibrations)
Parking brake operation
So be confident, as each vehicle is tested in the same way you'd commute to work in Cartersville or beyond.
What if a Vehicle Doesn't Pass the KIA Certified Pre-owned Inspection?
There can be one of two cases here. Sometimes it will be flat-out rejected. But, in many cases, we can repair smaller issues to like-new condition.
Every repair is made by certified technicians using cutting-edge tools and genuine auto parts, just like you'd get when you drive down from Canton for service. Once the issue is repaired, the vehicle can then pass the rest of the inspection.
What is the KIA Certified Pre-owned Warranty?
While the Kia Lifetime Powertrain Warranty only comes with new vehicles, CPO vehicles still get an impressive warranty.
The first is a 10-year/100,000-mile (whichever comes first) Limited Powertrain Warranty,1 with service available at authorized Kia dealerships throughout the nation. You also get a 12-month/12,000-mile (whichever comes first) Platinum Coverage Plan for added protection on areas like the braking system and more.
What Are the KIA Certified Pre-owned Benefits?
Your certified pre-owned Kia Sorento, or any other CPO vehicle, comes with many benefits. The first is 24-hour roadside assistance provided with the complimentary Cross Country Motor Club Driver's OneCard Membership. It covers flat tire changes, fuel delivery, vehicle jump-starts, and lockout assistance; just one call is all that's needed to get help.
You also get emergency towing coverage, which will reimburse up to $75 toward the one-time towing charge in case of a warranty-covered breakdown. Also available in case of a warranty-covered breakdown, you'll get Travel Breakdown Coverage for up to $100 per day, up to a $500 total for food and lodging if you're far from home.
Last but certainly not least is rental car coverage. Like the rest, it's available when facing a warranty-covered breakdown. In such cases, rental car fees will be reimbursed up to $35 per day, for up to a total of 10 days.
So breathe easy; your Kia Stinger certified pre-owned pick is covered across the board.
How Can I Buy KIA Certified Pre-owned Vehicles Near Marietta?
You can browse our online inventory, make a list of vehicles that catch your eye, explore them at our dealership, talk to our finance team, and drive one home.
But, there's another way. You can buy the Jim Ellis Express Way and save both time and money, as you can shop and have the finance-related aspects taken care of entirely online. There are also home test drives and home deliveries, along with many more benefits to discover.
Find Your Perfect KIA Certified Pre-owned Vehicle Today
Whichever great model is your favorite, we likely have it in stock as a certified pre-owned vehicle. We're here to help you discover it with friendly customer service and competitive prices, so contact us to set up a tour and test drive, or do it the Jim Ellis Express Way today.
---
1The Kia Certified Pre-Owned Limited Warranty is serviceable at Kia dealerships across the United States. Some restrictions and coverage limitations may apply. See your Limited Pre-Owned Warranty for details.